Respiratory Care
The Care Center of Honolulu has the largest respiratory care unit in the state and has been providing care to ventilator-dependent individuals since 1987. Our specialized unit is dedicated exclusively to adults and children with tracheotomies who require frequent tracheal suctioning, around-the-clock monitoring, and/or are ventilator dependent.
We are able to give our patients their best chance of recovery and highest quality of life by providing nursing and respiratory care combined with nutritional support, medication management and rehabilitation therapies. By combining experience, state-of-the-art technology, and unparalleled training, our doctors, nurses, and therapists provide a team approach for those with complex medical conditions requiring an extended Skilled Nursing Facility stay.
We understand the feeling of helplessness that often occurs when loved ones cannot breathe on their own. Our ventilator teams consist of board-certified physicians, pulmonary program managers, advanced practice nurses, respiratory therapists, nursing and rehabilitation professionals, pharmacists, and nutritionists.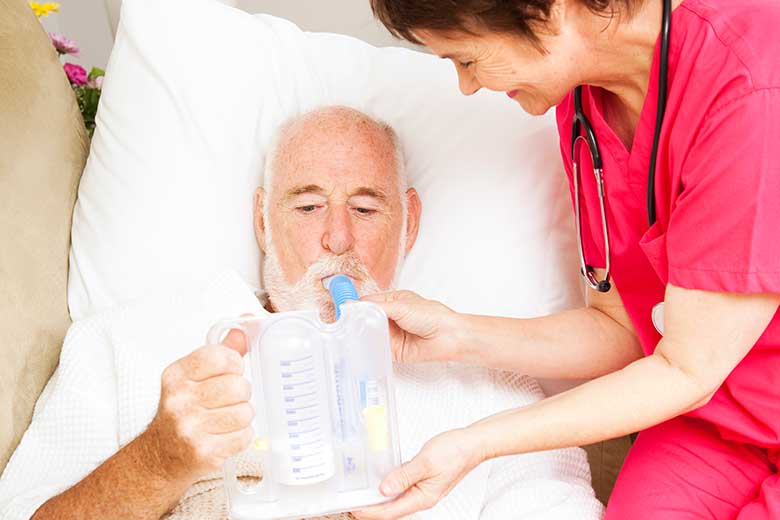 Our services include:
Consistent physician assessments
Low patient-to-nurse ratios
24-hour aggressive respiratory therapy
Physical, occupational, and speech therapies to promote independence
Clinical dietician and nutritional counseling
Radiology and laboratory services
Clinical pharmacy
Individualized case management
Individual Care Plan for Your Needs
An interdisciplinary team actively participates in managing an individualized care plan to provide optimal quality of life and quality of care to each resident. Your specialized team will include a primary care physician, licensed nurses, respiratory therapists, technical nursing aides, and registered dietitian. A social worker will provide medically related social services to help you attain or maintain the highest level of physical, mental, and psycho-social well being possible.
Due to the medical complexity of their condition, patients may also receive:
Respiratory care, including ventilator and tracheotomy care
Telemetry and other specialized monitoring
IV medications
Dialysis
Chest tubes
Wound Care
Prolonged IV antibiotics
Isolation
Post-operative care
Pain management
Our expertise extends to patients who have the following:
Mechanical ventilator dependence
Chronic Lung Disease (such as COPD and Emphysema)
Neuromuscular disorders
Acute respiratory ailments
Pneumonia
Post-surgical complications
Spinal cord injuries
Stroke
Brain injuries
Metabolic encephalopathy